C & L Machining
P.O. Box 167
110 South New Broadway
Brooklawn, NJ 08030
P. 856.456.1932
F: 856.456.4401
info@CandLMachine.com
"Committed to Quality and Continual Improvement"
C & L Machining Co., Inc is a full service machine shop devoted to quality and service. Our dedication to quality, time management and most importantly, budget is the primary reason customers continue to work with us on project after project.
Whether your machining service order is simple or complex, high or low volume production, C & L Machining guarantees precision, superior quality and budget friendly service tailored to your requirements.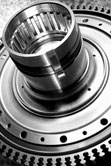 C & L Machining offers the following Machining services:
CNC Milling
Milling
Turning
Gear Cutting
Welding and Fabrication
Babbitting
Precision Machining
Machining Maintenance and Repair
C & L Machining also offers service support capabilities such as Polishing, Heat-Treating, Grinding, Plating, Blasting, Painting, Specialty Gear Cutting, HydroStatic Testing, Assembly, Non-Destructive Testing (NDT), Water Jet Cutting & Laser Cutting.
We have positioned ourselves to give you the most competitive pricing and best delivery for parts and assemblies, with production runs ranging from low to high volumes. Contact us at 856.456.1932 / info@candlmachine.com to discuss your next project.